Axis Division 2018 Kitesurf Board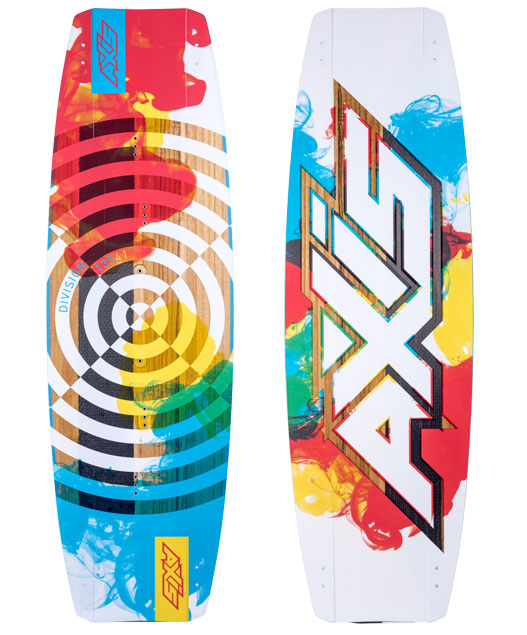 Axis Division 2018 Kitesurf Board
Time to step up your game, easy flex with big air power.
The AXIS Division is a brand new board for 2018. After its introduction 4 years ago, the Division has gained support within the freeride and freestyle community who is looking for a more comfortable and flexible board for all conditions.Medium FAT rail, new rocker (AXIS Arc rocker line), new tips and bottom channels make the Division our most complete board for all conditions and riding styles. We also added a 140×43 which should become a favorite among riders who want to play with boots or straps on the same board, as well as bigger riders or lighter winds.
Axis Division 2018 Freeride Kitesurf Board
The 2018 AXIS Division has a straighter outline in the middle and is more curved in the tips making it smooth and stable, instantly comfortable, and a blast to use. For 2018 we laser cut the tip and shape them individually creating a better definition, while managing a construction process that is unique, strong and high performing. We added the 140 x 43cm size this year as many riders are looking for the flex and forgiving nature of the Division in lighter winds.
The bottom shape is less complicated than some of our more aggressive freestyle models but still provides a good grip. In addition, the new rocker line allows the AXIS Division to glide over the water, which, coupled with the bottom shape, reduces the drag of the board, makes it faster, provides more upwind ability, and makes for some smooth, solid landings.
The outline, flex, and bottom shape allow this board to butter through chop and still deliver when it is pushed to the next level. On the smaller sizes the AXIS Division has been highly revered by our younger riders and female riders because it is very light and has the correct amount of pop that lighter riders need to achieve their goals. The Division is super comfortable to ride. Ride it for the first time, and it will feel like the best board ever.
The 2018 Division is a board for everyone – from early intermediate to shredders on boots. Ride one and you will tell the difference. Fun, Performance, comfort, flex.
Target:
Freeride/freestyle big air booster and freestyler
CHOOSE YOUR WEAPON
133 X 40CM
135 X 41CM
138 X 42CM
140 X 43CM
AVAILABLE AMMO
50MM FINS
HANDLE
TRACTION STD - XS-M
TRACTION STD – M-XL
TECHNOLOGY
CARBON/GLASS
MOTHERS RECIPE.
THE LAMINATE IS BIAXIAL FIBERGLASS WITH UNI CARBON REINFORCEMENT.
THE COMBINATION OF THE GLASS AND CARBON PROVIDES A VERY DURABLE BOARD WITH GREAT CONTROLLED FLEX FOR EXCELLENT POP.
CLEAR TPU FOIL
VISIBLE. PROTECTION.
THIS BOARD HAS A DURABLE CLEAR TPU FOIL TOP AND BOTTOM SHEET, WHICH IS MOSTLY CLEAR TO HIGHLIGHT THE PURE CARBON LAY-UP WITH SCREEN PRINTED GRAPHICS.
THE FINISH IS SUPER DURABLE WITH LASTING COLOR.
PAULOWNIA WOOD CORE
SUSTAINABLE. STRONG. LIGHT
The core of each AXIS twin tip board is solid Paulownia wood. Paulownia has a high strength to weight ratio making our cores light and strong. It's also one of the fastest growing timbers which makes it sustainable and highly eco-friendly!
The rails are made from colored PU material. The PU material is tough, forgiving and its formula bonds very well to epoxy without any special heat treatments, giving our boards a solid construction. Using PU the rail material is seamless, and there are no joints / connections making the rails stronger.