Axis Liberty 2018 Kitesurfing Board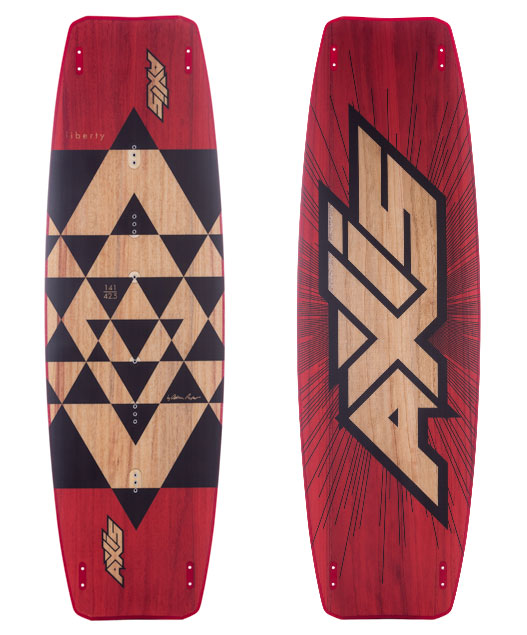 Axis Liberty 2018 Kitesurfing Board
The 2018 AXIS Liberty kiteboard is the all round stick for AXIS. We designed the AXIS Liberty with schools, beginners and intermediate riders in mind. The more we use it and travel with this board, the more we realize that the AXIS Liberty is a great board for everyone and all conditions.
Axis Liberty 2018 All-Round Kitesurf Board
The Liberty's softer and forgiving nature makes this the perfect board for all level kiters and people who require all-round performance. The construction is fiberglass and a Paulownia wood core, providing a board with very comfortable flex and a tough to beat price.
For 2018 the Liberty line gets a new rocker, and new sizes (135, 138, 141) in addition to the highly successful 145 and 150. Exposed wood graphics, Paulownia wood core, and PU rails make the Liberty a favorite among beginner and intermediates alike.
The Liberty's flex allows you to cruise over chop and rough water with ease. The AXIS Arc rocker (continuous arc rocker line), flat-medium rocker line requires less power from the kite thus making it easier to get up and plane quickly. This advances the progression of new kiters and allows more advanced kiters to have speed on tap! The Liberty comes equipped with high quality AXIS Traction footpads/straps, and the AXIS fins which are the highest quality G10 we use across our complete twin tip product line.
On the smaller size the Liberty comes with the Traction Small/Medium size straps, while on the bigger sizes, you will receive the Traction Large/Extra Large straps.
Get on the 2018 Liberty and explore the freedom of kiteboarding!
CHOOSE YOUR WEAPON
135X41.5CM
138X42CM
141X42.5CM
145X43CM
150X44CM
AVAILABLE AMMO
50MM FINS

TRACTION STD - XS-M

TRACTION STD – M-XL
TECHNOLOGY

PAULOWNIA WOOD CORE
SUSTAINABLE. STRONG. LIGHT
The core of each AXIS twin tip board is solid Paulownia wood. Paulownia has a high strength to weight ratio making our cores light and strong. It's also one of the fastest growing timbers which makes it sustainable and highly eco-friendly!
PRECISION CNC CUTTING
ACCURATE. SMOOTH
Our boards are cut with precision CNC, ensuring every AXIS twin tip or surfboard blank is perfectly cut to our high quality standards and specifications, ensuring each board is exactly the same.
The rails are made from colored PU material. The PU material is tough, forgiving and its formula bonds very well to epoxy without any special heat treatments, giving our boards a solid construction. Using PU the rail material is seamless, and there are no joints / connections making the rails stronger.