We started teaching Kitesurfing Lessons Near Brighton and running our online store in April 2014. In July 2016 we were awarded British Kitesports Recognised School status, the highest level a kite school can reach. Founder Christine Johnston has a background in Olympic and Formula windsurf racing, attending the Sydney 2000 Olympics, and winning the Formula World Windsurfing Championships in 2003. Christine finished training as a British Kitesports Association kitesurf instructor in June 2012 and spent her first few seasons as a kitesurf instructor working at Brighton Kitesurf Academy and BN1 Kitesurfing on Lancing Beach in Sussex, Kite Republic in Melbourne, Australia and most recently (winter 2014/2015) at Windchasers in Langebaan, South Africa. This has given Christine a broad range of teaching experience in a variety of conditions.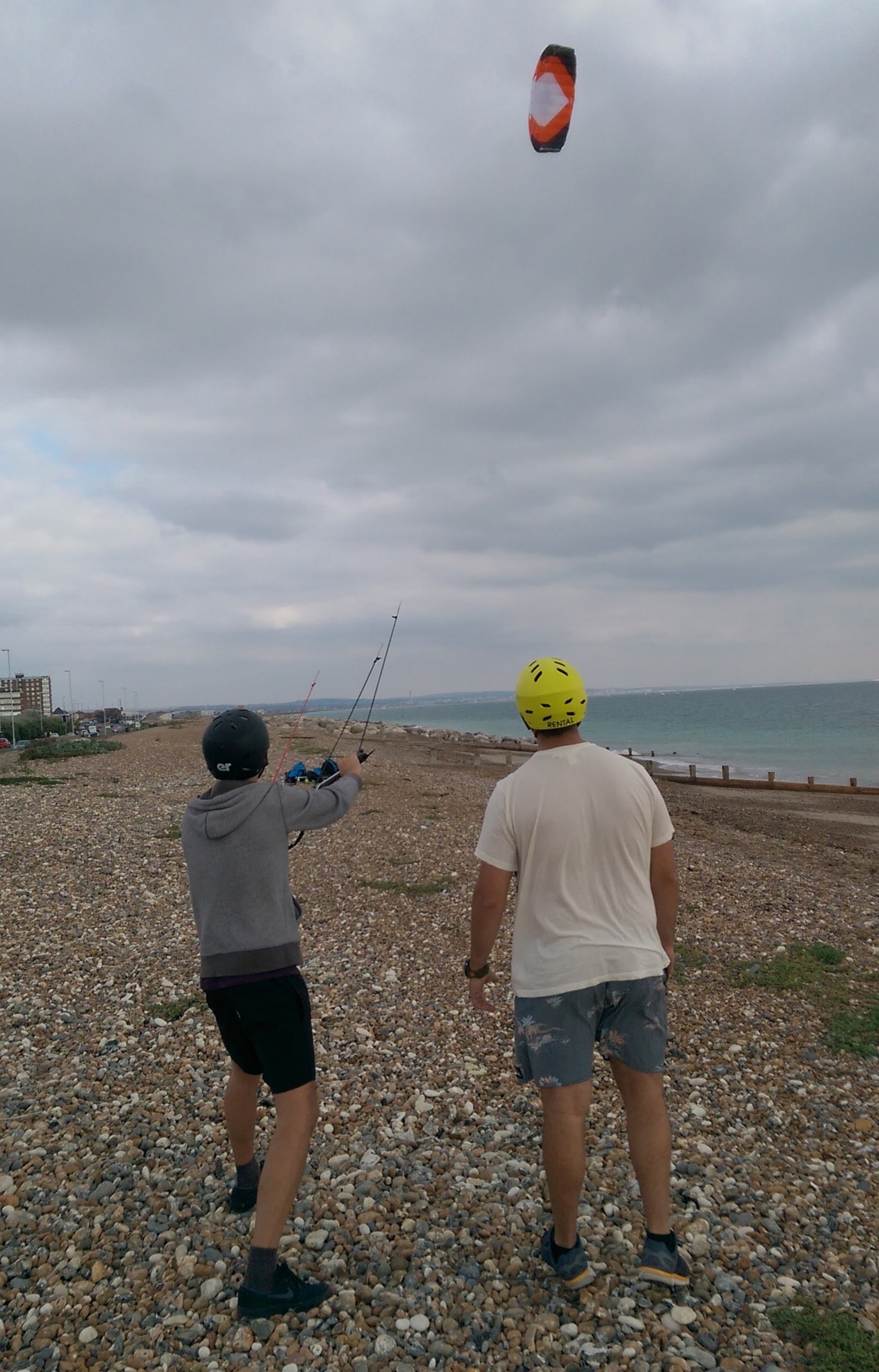 We won't abandon you after you've finished Lesson 3, we'll add you to The KiTE, SURF & SUP Co. Group for Independent kiters so you can stay in touch about when other kiters will be kiting at East Worthing. Or you might decide that you want to keep progressing by taking a PROGRESSION or ADVANCED lesson with us.
Kitesurfing Lesson Prices:
All 1:1 Lessons: £60.00/hour

Group Lessons:
Level 1 - £50.00 for two hours, up up four people per group
Level 2 and above - £90.00 for three hours, up to three people per group
We have been getting fantastic kitesurfing lesson reviews since we opened our school in February 2014. Here's one example:
"Just want to say Gary and I had such a great day with our teacher Christine. She was fantastic very professional and her teaching technique very impressive it was clear she is very knowledgeable and we both felt very safe.
Thank you for a great experience and we both said we would do it again." Claire Bancroft, July 2016
Ready to book? Go straight to the BOOKINGS page.



And a Nobile T5 2016, on sale at £359.00 any size:
And a Mystic Majestic Harness £179.95 any size:
= £1793.95 and you get your Level 1 and 2 group lessons for FREE! (value £140.00 (group) or £180.00 (1:1)).

Alternatively pay for your lessons up front and then take the value of your first two lessons off your kitesurfing package, e.g.
Ozone Catalyst 2016 10.0m complete £1255.00 + Nobile T5 £359.00 + Mystic Majestic Harness £179.95 = £1793.95
- £180.00 (1:1 lessons 1 & 2) = £1613.95
Basically you learn for FREE!
Contact
The KiTE, SURF & SUP Co. Office, Brighton. Please note we are an online only store, there is no physical shop at this address, however 'click and collect' at this address is available:
5 Kingston House,
56a Gardner Road,
Portslade,
Brighton,
BN41 1AR
Tel: 01273 410580
Email: christine@thekitesurfandsup.co
The KITE, SURF & SUP Co. School, Worthing:

Beach opposite BP Service Station,
331 Brighton Road,
Worthing,
West Sussex,
BN11 2HP
Header Video: Bobby at St. Lucia Kitesurfing - back roll kite loop riding the Peter Lynn 13.0m Fury